Magness Memorial Tree Farm is temporarily closed.
Located in Sherwood, Oregon, Magness Memorial Tree Farm is private property owned and operated by World Forestry Center. The land was donated by generous local residents Howard and Panzy Magness. The forest and facilities have been managed for forestry and outdoor education since 1977 and are supported by annual gifts, grants, and donations to World Forestry Center.
Originally developed as a demonstration site for woodland owners to showcase forest management and silviculture. With 2.5 miles of hiking trails, sheltered picnic areas, meadows, streams and forests, it is a perfect place to spend a day in the woods!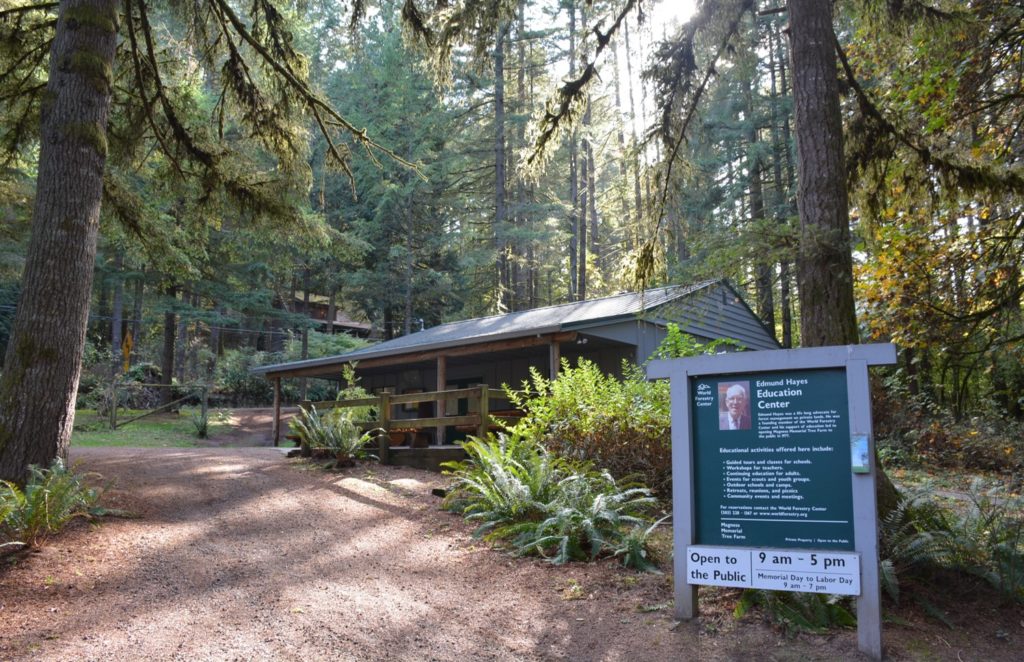 ---
Sustainable Forest Management in Practice
In late 2020, we performed a maintenance harvest at Magness – our first in over 20 years.
---
The Future of Magness
Magness Memorial Tree Farm is a wonderful regional and community asset and has been open to the public for more than 40 years. Due to rising operational costs, changes in personnel, and increased vandalism, World Forestry Center will be restricting daily use, reviewing annual operations, and meeting with interested individuals and organizations to chart a mission-driven and sustainable course for the future.
We appreciate your understanding and cooperation.
For additional information please contact Chuck Wiley, World Forestry Center Director of Facilities at cwiley@worldforestry.org.
Plan Your Visit
Location
31195 SW Ladd Hill Rd
Sherwood, OR 97140
Located approximately four miles south of Old Town Sherwood and 10 minutes west of 1-5 Wilsonville exit 283, Magness Memorial Tree Farm is only 45 minutes from downtown Portland.
Guidelines
We hope you enjoy your visit to Magness. Please help us to maintain a safe environment by following our simple rules. Violators of our rules may be asked to leave. We are a private facility open to the public and reserve the right to refuse anyone at our discretion. Our rules are subject to change.
Please stay on the trails.
All dogs must be leashed. There are predators in the forest and leashes help protect both dogs and local wildlife.
No smoking or vaping.
No camping.
No fires, including grills.
Picnic shelters are first come, first served.
Please pack out anything you bring in.
No visiting outside of posted hours. Violators will be treated as trespassers.
Hiking Trails
Nagle Trail
This hard-surfaced, mostly flat loop trail provides a tour of our natural area and the riparian (stream) zone of the South Fork of Corral Creek. Along the way, the trail features a self-guided tour in the form of educational signposts identifying and describing native trees, plants, animals, and forest ecology.
An easy walk for most ability levels.
1/2 mile. Paved. Easy.
Allow 15-30 minutes.
Woods Tour and Trails
Take in the natural beauty around and appreciate this constantly changing place! This beautiful two mile hike, with several optional spurs, showcase the area's native trees, plants, flowers, and wildlife species. Natural processes, human impacts, and different landowner objectives and forestry techniques can also be seen along this scenic trail. Visitors should dress for the weather and wear footwear suitable for safe walking outdoors on trails.
A refreshing walk in the woods.
2 miles. Unpaved. Moderate.
Allow 60-90 minutes.