"We invest in people, so they can sustain
the world's forests."
World Forestry Center has always existed at the intersection of people and forestry. Our unique International Fellowship Program is one of the most successful and enduring examples of that work.
Meet the team responsible for this one-of-a-kind program:
Sara Wu
Sara Wu serves as Deputy Director for World Forestry Center and oversees its professional programs, including the International Fellowship Program and various conferences on global forestry issues.
She has a Masters degree in Public Administration, dual Bachelor degrees in Economics and Religion, and has co-authored papers in Science, AMBIO, and the International Forestry Review journals.
Rick Zenn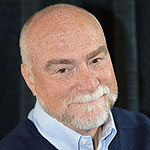 Senior Fellow Rick Zenn is an award-winning environmental educator with over 35 years of professional experience overseeing teacher programs, community outreach, and partnerships and volunteers.
He has worked on educational initiatives with the Smithsonian Institution and the American Forest Foundation. He oversees World Forestry Center's Hagenstein Lectures series and advises visiting International Fellows.
Shadia Duery
As Program Manager of the International Fellowship Program, Shadia Duery supervises a wide range of natural resource-focused research projects and leads regional study tours and seminars for visiting forestry and natural resource professionals from all over the world.
Shadia has over 15 years of work experience and education in forestry, having worked in nonprofit, public, and private sectors. She holds a B.S. in Natural Resources Management, and a dual M.S. in Forestry and Environmental Planning and Management.
Vivian Bui

Vivian Bui, Professional Programs Coordinator, is a wildlife biologist with nine years of fieldwork experience and six years of leadership in project management with public and private natural resource organizations. She has an M.S. in Wildlife Biology from the University of Washington and a B.S. in Wildlife, Fish, and Conservation Biology from the University of California, Davis.
Vivian assists Shadia with the International Fellowship Program while also working on other World Forestry Center professional programs, like the Who Will Own the Forest? conference and The Hagenstein Lectures.
---
Support Our Work
The International Fellowship is one of several programs designed to drive problem solving by current and future forestry professionals. Support this important work with a donation to World Forestry Center.